Health Innovation Manchester
"Health Innovation Manchester is an Academic Health Science System (AHSS) established to drive proven innovation into health and social care services at pace.
Our role is to seek out and bring forward a constant flow of (industry led) innovations,..."
Mr Arjun Sikand
Commerical Director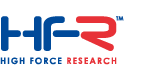 High Force Research
Established in 1988, High Force Research is proud to remain a truly independent UK chemistry CRO. HFR collaborates with discovery groups in synthesising new materials for proof-of-concept studies and in process development on the route to market. In segregated cGMP facilities, HFR produces from grammes to multi-kilos of Active Pharmaceutical Ingredients and their intermediates for pre-clinical studies and early clinical trials.
Dr Stella James
Head of Business Development